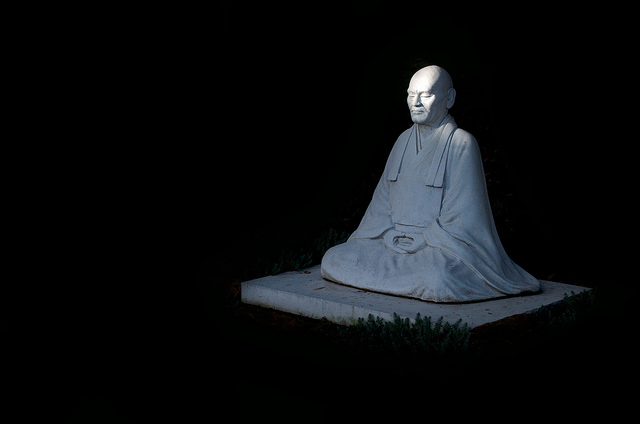 Recently I was interviewed by meditator and entrepreneur Sonia Thompson on the subject of meditation. Sonia is a good friend and she asked some very insightful questions.
In fact, Sonia's questions were so closely aligned with the most popular questions we receive here at AboutMeditation.com that I decided to dedicate this episode of the podcast to answering them for you.
A lot of these questions cover the ABC's of meditation. But even if you're a seasoned meditator, I think you'll appreciate revisiting some of these basic principles in more depth, because they never get old.
Here are seven questions about meditation that everyone asks with a super brief summary of my response to each question. I answer each of these questions and provide context in much greater detail in the audio podcast.
Seven Questions About Meditation That Everyone Asks
1. What exactly is meditation?
Meditation is training for your attention. It's a process and a practice. You can think of your meditation practice as a gym membership for your mind. You build the muscles of your attention through meditation. By focusing on one thing, like your breath, and repeatedly bringing your attention back to that anchor, you strengthen that muscle. That forms the basis for an empowering and enlightening process that starts to unfold within you.
2. What's the difference between meditation and mindfulness?
Mindfulness is meditation in action. It's the deliberate practice of present moment awareness.It's noticing and being attentive to whatever's happening. For example, washing the dishes. Being attentive to the sensation of the water. The ambient soundscape around you. The feeling of being rooted and standing at the sink. The tendency of your mind to drift away. Mindfulness means practicing a refined and subtle form of paying attention to everything you do.
3.  What are the benefits of meditation?
We can come at this from a few different angles.
Physical: Studies show that meditation helps you relax, lowers your blood pressure, neutralizes and even reverses the effects of stress, decreases blood cortisol levels, helps with irritable bowel syndrome and digestion, and it can help you sleep better.
Emotional: Meditation stimulates you relaxation response and helps calibrate your emotional state. It helps you achieve a deeper emotional equilibrium as you find a deeper ground of stability beneath or beyond the daily ups and downs. In essence, it helps you become emotionally centered and grounded.
Mental: Neuroscience studies show that 8 weeks of Mindfulness-Based Stress Reduction (MBSR) grows the grey matter in your brain, increases focus, and increases productivity.
Spiritual: Through meditation, you discover a part of yourself that is unlimited and unrestricted. You slowly but surely develop a sense of connection with everything. You find that sense of connection and wholeness through a very simplified stripped down state of being. In that experience of being, you understand at some core level that everything is fine just as it is.
4. Is meditation something that should be practiced daily? Can you get the benefits of it if you don't do it everyday?
The ideal is to meditate every day. Why?It's important to build momentum. Like any skill you're trying to develop, you won't grown in the practice without commitment. Daily practice is best, and you can derive real benefits with just 3-5 min a day.
5. What are the common misconceptions people have about meditation?
That a busy mind makes you a bad meditator.
That meditation is only for a particular kind of person.
That your mind shouldn't wander, because it will.
That you have to meditate for an hour every day to get benefits.
That you don't have enough time.
6. Is there an ideal amount of time new meditators need to engage in this practice before it becomes something that they "get" or start to see benefits from?
It's different for everyone. I meet people who have a big A-HA moment the very first time they meditate. For other people, like me, it may take much longer.
7. Should meditation be a structured practice?Are there times of day, postures, or targeted timing that should be devoted to practice?
Ideally yes. Because, in the beginning, you want to create a habit out of it and the best way to do that is through rote structure. Pick a cue, establish a routine, and be clear about the reward you want from it. The cue for me is my cup of coffee in the morning. You can learn more about how to create a meditation habit here.
Show Notes