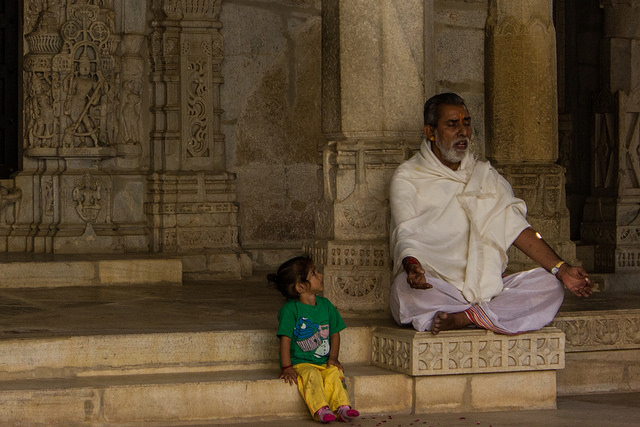 There are a lot of evergreen meditation tips. There are techniques and tricks you can learn along the way. But I've found that one lesson stands above the rest. After meditating for more than two decades, I've come to call it the Golden Rule of meditation.
The Golden Rule is simple. In essence, it tells us to never make a problem during meditation.
And the reason I wanted to share this with you is because it's a cornerstone of any thriving meditation practice.
So, why is this so important? There are a lot of reasons. In this episode we touch on just a few of them. My primary goal is to impress upon you the simple fact that if you take the Golden Rule to heart, it will save you trouble, reduce inner friction, and spare you from getting stuck in some perennial meditation pitfalls.
In essence, the Golden Rule is about hewing to an inner posture where nothing is ever a problem during meditation. No matter what happens or doesn't happen, it's not a problem.
Three Scenarios Where You Can Apply The Golden Rule
It's simple, but it's hard. Often you can break this rule, and not even know it. Here are a few examples where it can be especially challenging but helpful to practice the Golden Rule.
1. Side-Stepping Stress
Scenario one, you sit down to meditate when you're really stressed out. You've got things going on at work, at home, or in your relationship and you're stressed. So you're sitting down in meditation to let go of that stress, calm your nerves, relax your body, and rest your mind.
But as you sit there meditating, you're all over the place. Your mind is link a ping pong ball going back and forth on this problem and that issue and on it goes in an endless loop…
In the end, you feel like you never really settle down, you never really relax, and you don't feel much relief or release from your mind and your stress.
This is exactly when the Golden Rule is so important.
In a moment like that, if you can be cool with all of it and not make a problem or feel like a failure then that's a victory.
2. Short Circuiting Self-Criticism
Here's another scenario. We all have that hyper-critical voice in our head that's just waiting for the opportunity to confirm our suspicions that we have failed in today's meditation session.
This is moment to invoke the Golden Rule. When you do, that the hyper critical voice doesn't stand a chance. Why? Because you aren't making a problem out of anything, that self-critical voice has no traction. It lives and thrives on problems.
However, during your meditation you're asserting that there aren't any problems. In the process, you short circuit an entire mechanism in your mind that leads many people to give up or feel guilty or feel stressed out.
3. Practicing The Golden Rule Means Letting Go
And here's another part of the golden rule. It's a sneaky strategy for letting go. If you can let there be no problem at all, you end up letting go of a lot of the things that undermine your practice. Here are some of the pesky question that tend to send us down the rabbit whole:
Am I doing this right?
Am i making progress?
Am i having the right experience?
Am i having the wrong experience?
Oh god I haven't meditated in days i'm out of practice…
I don't think I meditated long enough…
Am I getting any results from this all?
While meditating, you want to let all that go, because it focuses your attention on problems. When you follow the Golden Rule, you sidestep that business altogether.
So that's a brief lesson on the Golden Rule. I encourage you to make it a cornerstone of your practice. Before you know it, you'll marvel as you cut through thorny issues that were holding you back.