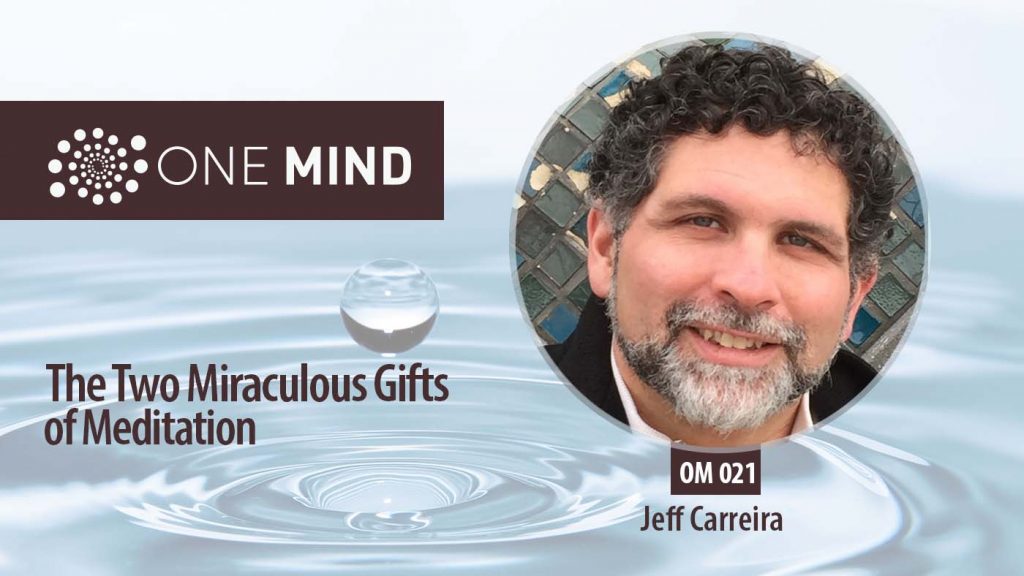 Do not go where the path may lead, go instead where there is no path and leave a trail. ~Ralph Waldo Emerson
Is everything ok? I mean right now, independent of whatever is happening in your life, do you think life itself is a positive event?
Stop for a second and think about it. Sure, we all have issues and problems to work through, and we've all suffered. But beyond that. Is everything fundamentally alright or all wrong?
Because the approach to meditation I'm going to share with you today may challenge the way you see the world. Why? Because it introduces you to a perspective and a practice where nothing could ever be wrong.
In fact, based on this approach to meditation, one of the core discoveries you make through diligent practice is that life is positive beyond measure.
Curious yet?
The Miracle of Meditation & The Practice of No Problem
In this episode of the OneMind Meditation Podcast, I interview meditation teacher Jeff Carreira about his unique approach to meditation.
He calls it The Practice of No Problem, and it's transformative.
In this interview, we explore what Jeff calls the two miraculous gifts of meditation, which you can discover through this practice. We also discuss how this approach to meditation can free you from a cycle of reactivity that leads to poor choices.
And finally, we have a wide ranging conversation about how meditation can help you deal with challenging emotions that can sometimes arise in meditation.
The Spirit of Inquiry
Jeff Carreira is a meditation teacher, philosopher, author, lecturer, and evolutionary pioneer. He is also an educator who is steeped in the study and practice of Eastern Enlightenment and Evolutionary Spirituality.
Before embracing the spiritual life, Jeff received his undergraduate degree in physics and worked as a research engineer designing, building, and testing electro-optical laser devices.
After five years he realized that science alone could not answer life's deepest questions, so he embraced a more humanitarian field—teaching—and received his Masters in Education.
I invited Jeff on to the show because I wanted you to learn about his inspired approach to meditation. I think you're going to find that his spirit of inquiry is both contagious and illuminating.
In this episode Jeff Carreira and I explore:
How most people live with the assumption that something is fundamentally wrong
How he came to develop a unique approach to meditation called the practice of no problem
What Jeff calls the first miraculous gift of meditation
The experiences that led to his conviction that life is fundamentally positive
How his awareness slipped out of his mind
How the practice of no problem deals with what Jeff calls "a judgmental separation from reality"
How to question the assumption that life should be someway other than the way it is
The Second miraculous gift of meditation
The two ways that the practice of no problem helps you deal with challenging emotions
The difference between pain and suffering
Jeff's advice for new and aspiring meditators
Show Notes
(Photos Via Flickr CC: Blanca)