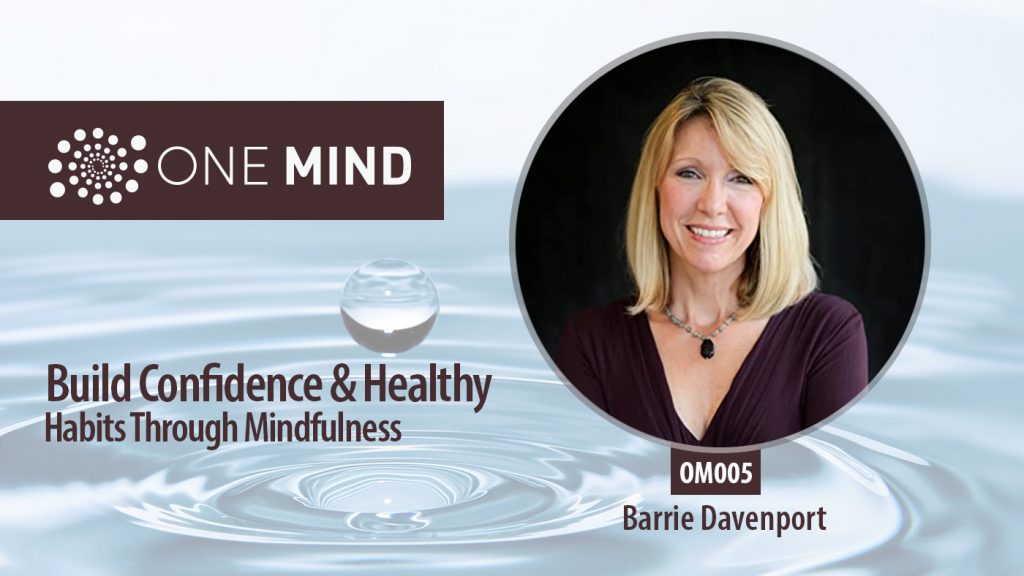 Meditation and mindfulness are amazing tools for extricating yourself from the mire of over-thinking, worry, and anxiety. ~Barrie Davenport
I first learned about Barrie Davenport's work when I picked up her book, Peace of Mindfulness. Very quickly, I could tell that she had put together a powerful and well-researched resource on mindfulness for the modern practitioner.
And more than that, the Peace of Mindfulness transmits her obvious passion and commitment to living in the present moment and getting the most out of life. In the book, her tone and approach is refreshingly pragmatic because she grounds her work in science and offers only proven approaches to change and transformation.
In her own words, Barrie is a personal growth seeker, published author, and certified coach committed to helping people shift their thinking, create positive new habits, and build lifetime confidence.
She creates online courses on her popular website, Live Bold & Bloom, that help thousands of people around the world with practical strategies for personal development. She offers scientifically supported, proven techniques for real, quantifiable change.
Live Bold & Bloom is a powerful tool for living a better life. Barrie walks the walk, and knows how to simplify complex problems with actionable, easy steps. ~ Leo Babauta, Zen Habits
Barrie spent over 20 years as a public relations executive in Atlanta and New York, helping her clients achieve their own passions by promoting their success. At midlife, she knew she needed a change and took a leap of faith, leaving her successful public relations career to find her true passion.
Build Confidence Through Meditation
In this two-part episode of The OneMind Podcast, Barrie shares some of her transformative techniques with step-by-step guidance that you'll be able to act on right away.
I wanted to interview Barrie so you could hear directly from the author and coach behind the book, Peace of Mindfulness. The interview was so rich with valuable stories, tools, and tips, that I am publishing it in two episodes.
In episode one, we explore Barrie's own story and how she helps her clients build confidence through a committed mindfulness meditation practice. In episode two, we explore the power of habit and Barrie shares her 7-step protocol for building a meditation habit that will last.
In part one, Barrie Davenport and I explore:
Why she left her successful PR career to become an author and coach
Why she wrote a book about mindfulness
How she integrates mindfulness practice into her coaching and personal life
How meditation helps you build self-confidence
Why meditation and mindfulness are such powerful tools for extricating yourself from the mire of over-thinking, worry, and anxiety
Some amazing studies on the power of visualization and why it's used by professional athletes
The challenge of trying to find time to meditate as a mother and professional
How letting go of the mind can liberate the creative process in you
In part two, Barrie Davenport and I discuss:
The tremendous power of habit
The definition of habit loops and keystone habits
How to create a lasting meditation habit with the step-by-step plan Barrie teaches her students
What habit stacking is and how Morgan used it to succeed at creating a habit he failed at for 25 years
Barrie's advice for new meditators
Show Notes
Live Bold & Bloom
Barrie's Free Confidence Test
Peace of Mindfulness by Barrie Davenport
Barries' Sticky Habits Audio Course
The Power of Habit by Charles Duhigg
The Power of Now by Eckhart Tolle
The Eternal Now by Paul Tillick
My Miracle Morning by Hal Elrod
The One Thing by Gary Kellar
The Miracle of Mindfulness by Thich Nhat Hahn
The Mind & The Brain by Jeffrey Schwartz
5 Simple Steps To Create A Meditation Habit That Sticks
The Surprising Statistics Behind Creating A New Meditation Habit
The One Thing You Must Do To Make Meditation A Habit

Learn meditation in 5 easy lessons with our Free How To Meditate Mini Course.