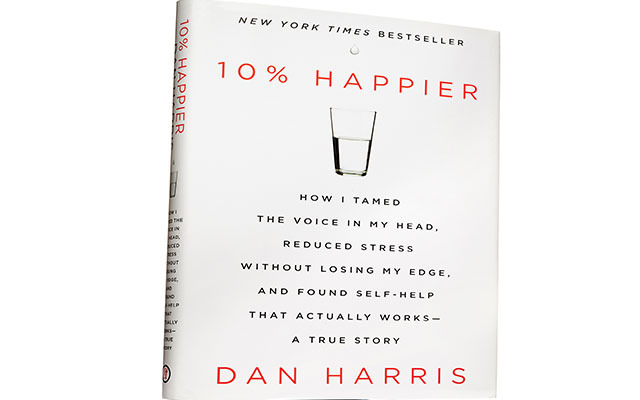 Can meditation make you 10% happier than you already are? According to Dan Harris, the co-anchor of ABC News' "Nightline" and the weekend edition of "Good Morning America," the answer is unequivocally "Yes."
After covering the religion beat for ABC News, Dan discovered meditation and wrote the bestselling book 10% Happier: How I Tamed the Voice in My Head, Reduced Stress Without Losing My Edge, and Found Self-Help That Actually Works–A True Story. He's been evangelizing to skeptical, scientifically-minded folks ever since.
In this episode of The OneMind Meditation Podcast, we interview Dan Harris about his book, 10% Happier.
How To Be 10 Percent Happier
Although Dan's book targets newer meditators, I loved it. I think you will too. This is one of the funniest books I've read in a long time.
Here's the basic plot. Dan turns to meditation after having a panic attack on air while anchoring the news on ABC. What ensues is a skeptic's quest to discover whether or not this ancient esoteric practice can really help him tame the voices in his head.
With self-deprecating and ironic humor, Dan takes you behind the scenes of ABC News as he wrestles with a culture (and an inner dialogue) that's fueled by relentless ambition, competition, and self-conscious anxiety.
Dan's disarming and unabashed transparency makes him a deeply relatable character and his journalistic crusade to sort through the self-help hype and get to the root of meditation's value is captivating.
For anyone who wants to convince a friend or family member about meditation, or if you need more convincing yourself, this is the book to read.
A Skeptical Champion For Meditation
Dan wrote 10% Happier because he saw an opening in the marketplace of ideas and recognized that meditation has a PR problem. After cutting through all the new-age and religious trappings, he realized that meditation is a simple, secular, and scientifically validated exercise for the brain. He also saw that very few people who had a platform were talking about meditation in this way.
Dan wanted to take advantage of his influence and public profile to convince people to meditate. Like a trojan horse, 10% Happier is an argument for the benefits of meditation dressed up as a personal memoir.
And it worked. Just as meditation's cultural moment started to peak, Dan ushered it even further into the mainstream.
Now, after writing a bestselling book, Dan has turned his attention to launching a new meditation app which was recently featured on ABC's Good Morning America.
In this interview, Dan and I discuss:
How meditation influenced Dan's journalism and TV anchoring
How having a panic attack on national television compelled him to start meditating
The breakthrough he experienced on a Vipassana meditation retreat
How meditation helped him be more spontaneous as a television anchor
How mindfulness has helped him deal with personal loss in his family
How Dan uses a memoir to deconstruct popular misunderstandings around meditation
Why ABC News started offering meditation classes
Why writing 10% Happier was the most significant development in Dan's professional career
Dan's advice for new meditators
The new 10% Happier meditation app
Show Notes