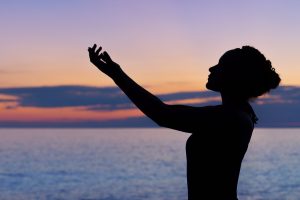 I remember the moment I decided to start helping other people learn how to meditate. It was about 17 years ago, right after a retreat with Shinzen Young. (Read on to the bottom to learn about a special meditation teacher training opportunity)
I had been training with him for around 3 years and as we were all packing up our cars to head home, I told him I thought I understood meditation practice well enough that I was ready to share it.
He invited me to attend a facilitator meeting and that was that: no fan-fare, no special test, no big deal. I was surprised. Somehow it seemed bold, even audacious to presume I could show another person how to do the often subtle and mysterious practice called mindfulness meditation.
I thought there must surely be a test you had to pass before you would even dare to do that – or be permitted to.
At the same time it seemed like the most natural next step in the world. Mindfulness was already having such a positive effect on my life and I saw clearly how it could potentially help others. I wanted to do what I could to serve others.
Looking back on that day, the impulse arose not just from a desire to contribute to other people's lives but also because I was finally in a place where I had the energy to give.
From Chronic Depression To Mindfulness
I came to mindfulness struggling with severe anxiety and depression. I had been in therapy, tried medication, found fulfillment in artistic expression, yet the future looked grim.
What I saw before me was a life of chronically managing my condition. At best, I would muddle along, wading through a swamp of unhappiness tempered by the therapies available to me.
I knew that at least occasionally I would sink into more severe states from which I would have to recover, to return to the stasis of unhappiness I regularly resided in.
As a singer-songwriter I had achieved a level of success few people ever get the opportunity to know. But, it was never enough to fully take care of myself financially and it was never enough to fully penetrate my chronically unhappy state of mind.
So, I had given up believing that outward success was the answer. The opportunity to realize my dreams had been just big enough for me to see through it and in hindsight that clarity actually rescued me.
The Best Decision I've Ever Made
The third day into my first silent retreat with Shinzen, I discovered a hidden door I never knew existed. I experienced a level of well-being I hadn't known my body was capable of.
In that moment it struck me that I had done nothing more to attain this state than follow the instructions and do the practice (ok – a lot of practice!) I saw that if I continued practicing, I would experience states like this more frequently until my body and mind adjusted.
I saw that over time, I could permanently change my inner ecosystem for the better.
Unhappiness was a conditioned state that could be penetrated with practice and systematically replaced with a happier one.
I'm not saying this was in any way an easy or fast process. But, given the alternative, I saw that it was my best shot at a way out and I took the plunge wholeheartedly. That was the best decision I've ever made.
A Glimpse of What Was Possible
After three years of immersive practice, I had gotten out from under my condition enough to start seeing the light – literally.
One of the strongest indicators was a moment in the grocery store. I had woken up that morning feeling depressed. When depression set in I never knew how many days or weeks it would last.
As I wandered through the aisles I passed a woman who gave me a perfunctory smile. Nothing special. But because of all the mindfulness training, I was able to receive that smile completely and as I did it was as if the sun had penetrated the clouds.
A bout of depression that could often stick around for weeks, simply dissolved in that moment and didn't return.
Sharing Mindfulness With Others
It was around that time that I began having the urge to share the practice with others. I was finally resilient enough to give back.
Each of us has a rate of growth with practice that is affected by our own unique set of variables: whatever conditions we are challenged to overcome, the amount of time we can devote, the kind of support we get, any natural gifts we may possess (I think my only natural gift was the ability to hang in there!)
So, for each of us, the impulse to help others learn to meditate will strike at different times and in different ways. It could be as simple as the way you smile at someone walking down the street.
Or you could decide you'd like to empower someone else with the skills that have been so transformative for you.
What I personally needed to learn was not to let my own self-doubt prevent me from sharing. Humility is a good thing. But too much self-doubt can prevent you from helping others.
So, do what you can. Find ways that feel natural to you to give back through your practice. Remember how much your practice has given you and honor that. You'll be glad you did.
-By guest blogger & meditation teacher Julianna Raye.
Special Mindfulness Teacher Training Opportunity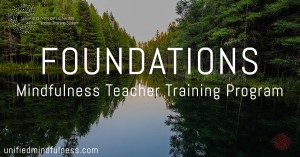 Do you want to become a certified mindfulness instructor? We are delighted to partner with Julianna Ray and Unified Mindfulness to share a special training opportunity. If you're not familiar with Unified Mindfulness, it's a simple, yet powerful framework for meditation that's been used in research at institutions like Harvard Medical School and Carnegie Mellon. Sharing mindfulness with others is one of the most meaningful gifts that you can give to others. >> You can watch a video about it and learn more here.