Sarah McLean, meditation expert and author of Soul-Centered: Transform Your Life in 8 Weeks with Meditation, has taught thousands of people to meditate. From a Mayo Clinic physician and a group of creative executives from Proctor & Gamble, to a group of international entrepreneurs from the Thunderbird School of Global Management, it seems like just about everyone is dipping their toes into an ancient practice that is becoming mainstream: meditation.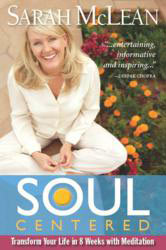 Sarah McLean has been featured in The New York Times, she is a media-trained meditation expert and the author of Soul-Centered
 (Hay House, May 1, 2012). From celebrities to everyday folks, Sarah has helped clients treat chronic illnesses, reduce stress, and find a renewed love of life. They all have learned the simple meditation practices she teaches that transformed their lives – whether it's by discovering a new passion, finding renewed enjoyment of life, or losing 50 pounds.
Researchers at the University of California have been studying these ancient yet mainstream meditation practices. One study published in the April issue of the journal Emotion was run by UCSF's Department of Psychiatry and involved 82 female schoolteachers between the ages of 25 and 60 who underwent a short but intensive meditation training program. After the program, they were shown to be less depressed, anxious or stressed – and more compassionate and aware of others' feelings.
Earlier this year, research at UCLA revealed that longer term meditators' brains show increased gyrification (or folding) that enhances the brain's capacity for computing information more quickly, maintaining focus and attention, creating and retrieving memory, processing logic, being more self-aware, and forming decisions.
At a time when antidepressants are the most-prescribed drug in the United States, the states of calm and wellbeing reported by meditators might be a welcome alternative.
Sarah can discuss the five essentials of meditation from her new book:
1.  It's Okay to have Thoughts
2.  Don't Try too Hard
3.  Let Go of Expectations
4.  Be Kind to Yourself
5.  Stick with It
About Sarah McLean
Featured in The New York Times, Sarah McLean is a contemporary meditation expert and author of Soul-Centered. Sarah teaches meditation classes and facilitates self-discovery retreats worldwide.  She's worked with some of today's great mind-body experts, including Deepak Chopra, Byron Katie, Debbie Ford, and Gary Zukav. She's lived and studied in a Zen Buddhist monastery, meditated in ashrams and temples throughout India and the Far East, spent time in Afghan refugee camps, bicycled the Silk Route from Pakistan to China, trekked the Golden Triangle in Southeast Asia and taught English to Tibetan Buddhist Nuns in Dharamsala.
Sarah's clients include: Proctor & Gamble, Perry Ellis International, Banner Health Care, Hi-Health Vitamin Stores, Solis Women's Health Care, The Young Presidents Organization, Miraval Resort, Red Mountain Spa, Arizona Society of Certified Public Accountants, and Thunderbird School of Global Management.
Sarah is the founding director of the Sedona Meditation Training Company, and The McLean Meditation Institute, educational companies offering meditation training, self-discovery retreats and teacher training certification programs that have transformed thousands of lives. For more information, visit http://www.mcleanmeditation.com.