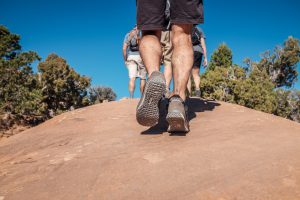 Yesterday I discovered the power of reciting a mantra to calm my mind and open my heart. The experience was spontaneous and empowering. And now, I am typing with aloe vera cream covering and cooling my shoulders and arms. I went for a hike and my skin burned in the sun (ouch!). But my mind is peaceful, blissful, and refreshed.
I'm an entrepreneur, and I work on the computer, sometimes from early morning until late in the evening. Occasionally my hand hurts from using the mouse for long hours. Yesterday, when I sat down and turned on my laptop, my palm kept twitching. I freaked out a bit and decided to take the afternoon off and go for a hike. I wanted to give my hand a rest and get my circulation moving.
The silence struck me as I got out of my car in the Red Rock Canyon state park here in Las Vegas. No traffic, no noise, no other people. Just a four mile path along the desert and mountains.
An eagle, respected in some Native American and shamanic traditions as a symbol of wisdom and bringer of spiritual awakening, soared in the sky and landed on the path a little ways ahead of me. Somehow I felt reassured by this. It's ok to take a break, even for the whole day, and just focus on regaining balance. Time in nature can be grounding and a reminder of life's priorities!
As I began the hike, my mind kept wandering. Here I was in the desert with blooming cacti and the fragrance of sage all around, but my thoughts still lingered at my desk. I thought of a way to center myself and bring my mind into the present moment.
With every step I took, I visualized entering that much deeper into a state of meditation. It worked…for 30 seconds. And then my mind was wandering again.
To boost my meditative intention for the hike, I decided to include mantra meditation throughout the hike. Now, with each step, on top of visualization, I chanted a word from the ancient Krishna mantra – Hare Krishna, Hare Krishna, Krishna Krishna, Hare Hare / Hare Rama, Hare Rama, Rama Rama, Hare Hare.
As I hiked on, practicing the mantra and visualization, I felt more and more connected to my surroundings, my body, and my spirit. By 'connected' I mean a profound sense of awareness, as if looking at the world and my inner life with new eyes, fresh from the illuminating and clarifying effects of meditation.
'Mantra' is Sanskrit and comes from the two words manas and trayate. Manas means mind, and trayate means to release, free, or protect. In short, mantras are sound vibrations designed to help you connect with awakened consciousness by freeing your mind from mental chatter.
I've practiced mantra meditation for over 10 years but this was my first time combining it with such rigorous movement. The result? It transformed an already wonderful walk in nature into a profound mindfulness exercise, increasing my appreciation for each moment and sight.
It  made me realize that no matter how beautiful mother nature is, it doesn't compare to the beauty of connecting with our "higher nature," the realm of spiritual awareness and universal consciousness that is always available through meditation. That kind of nature can stay with me even here in the city. Even if that city is my city–Las Vegas!