How To Meditate is a self-paced online course.
You will:
Discover and start mastering the basic principles of meditation and mindfulness

Reset your system when life gets overwhelming

Learn tools to overcome anxiety and fear

Tap into "Flow" – the mental state behind life's greatest successes

Ground yourself in the present moment and live life more fully

Develop inner strength, peace, and calm

Generate a field of serenity that influences everyone around you

Achieve instant relaxation and stress relief

Enhance your ability to focus throughout the day

Learn profound methods that give you access to the highest inner states of awareness
You don't have to be a monk to master the basics of meditation.
If you're willing to spend 5-10 minutes every day practicing some simple meditation techniques, you'll be surprised how quickly your life can change.
I must say that this was such an incredible experience and I am so thankful to you all. This has opened my mind and led me down such a strong and powerful path in my life. I can truly say that it changed the person I was, and I will never be the same again. I look at things differently, even colours seem brighter to me now. ~Kayte
Please read my letter below—then try How To Meditate for yourself... 

Applied Exercises

Meditation Picture Quote eBook
Community Forums

Meditation For Life: 3 Part Introduction
Boston, Friday Morning, 7am
Dear Friend,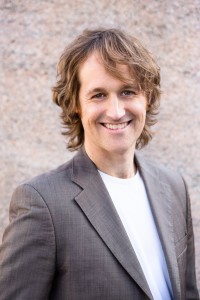 My name is Morgan Dix, Cofounder of About Meditation.
 I'm happy to introduce you to a new life-changing meditation program. It's called
How To Meditate,
a simple and comprehensive introduction to meditation.
Through How To Meditate, you will...
…discover an endless source of inspiration, focus, and clarity.
Meditation can help you relax, relieve stress and anxiety, and slow down. But it can also unlock your heart, open your mind, and help you realize a level of fulfillment you may not have experienced before now.
I want you to be sure that this is the right course for you. And I want you to know what you can expect to learn. So I've provided a full overview of the course here. Based on my own experience with meditation...
...Your life really can change in amazing ways.
Meditation was the catalyst for major transformation in my life and it continues to this day. If you are willing to meditate for 5-10 minutes every day, and if you follow the instructions in this course, you can't fail.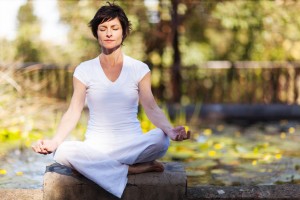 Imagine it for a moment.
You're sitting in a safe and quiet place as you meditate. Your mind grows calm like a still blue pool. You practice a simple technique and your attention becomes focused and clear. The stress and anxiety of the day melt away as your awareness expands into the present moment.
You are filled with a sense of gratitude and confidence that life, your life, is good beyond measure. Anything is possible. You are living in the fullness of this moment.
But you don't have to take my word for it. You can start right now.
Get the Core Training Program.
I started meditating over 20 years ago. I was looking for deeper meaning in my life. I wanted more out of every moment. A small voice kept whispering to me. Isn't there more to life than this? Can you relate?
I found the answer to that question through meditation. And I believe you can too. You see, meditation can help you in many ways: 
Stress, stress, stress: On a physical level, we run from one thing to the next leaving us tired, stressed, anxious, and depleted.
Emotionally drained: You might feel depressed or you're looking for more clarity. Or maybe you struggle to concentrate, focus, and make decisions?
Spiritual detachment: You may suffer from a lack of clear purpose or meaning in your life. Like me, you feel there must be more, but don't know where to find it.
…That's where meditation comes into the picture
As you probably know, there is more compelling science than ever supporting the benefits of meditation. 
Even short periods of meditation every day can dramatically increase your sense of wellbeing. What would that look and feel like for you? If you meditate on a regular basis you will:
Feel refreshed
Awaken your creativity
Focus your mind
Let go of negative thoughts
Experience the pleasure of expanded awareness
Release stress
Build confidence
Yes, it's also true that meditation takes real work. Personally, I've gained extraordinary benefits from consistent practice. You can, too.
Just recently, Harvard University published a study that said, "27 minutes per day practicing mindfulness exercises stimulated a major increase in gray matter density in the hippocampus, the part of the brain associated with self-awareness, compassion, and introspection." From our experience, you can experience positive results from meditation even sooner than that.
Do you struggle to make meditation a habit? 
A lot of people struggle to make meditation a lasting habit. Like any habit, it takes time to work it into your routine. How long? According to a 2009 study from University College of London, on average it takes 66 days for any new behavior to become a bona-fide habit. When meditation is a habit, it becomes effortless and automatic.
That's why we help train all our students how to establish meditation as a habit. We do this because the benefits are so incredible. But more importantly, because we want you to graduate from this training with a meditation practice that will last for life.
When it comes to starting meditation, a lot of people struggle with the same issues. Here is where many folks get tripped up:
You feel the instructions are confusing
You feel like you don't have time
You don't know if you are doing it right
You're unclear what you should be experiencing
Your mind won't go quiet
Those are THE most common concerns we hear about meditation from our students. And it's true, without guidance from a seasoned practitioner, these can be stumbling blocks. But they don't need to be.
That's why we developed a course that's based on my 20 years of experience. I made every mistake you can imagine, and I've been blessed with incredible experiences. And now I've worked with my team to distill that knowledge and create an incredibly simple but complete introduction to meditation.
You see, I did live like a monk in a contemporary ashram for 14 years, and I've spent close to 15,000 hours meditating. That's almost 2 hours a day for 20 years. But, you don't need to be a monk like I was to get the benefits of meditation. This course will give you the essence of what I've learned in a fraction of the time.
I loved the course! What I most appreciate is that you don't offer this training from a 'canned' perspective, but obviously from a very personal, experiential place. You really gave everyone what they need to develop their own practice.

~JT
I have greatly benefited from these lessons. This has helped me beyond words! I so appreciate your insight and descriptions and analogies. You are a wonderful teacher, a gift few possess. I do believe everyone should do this course, especially those having difficulty with meditation. I greatly thank you. Love and peace.

~Amy
Start Your Meditation Journey Today
Get the entire Core Training Program
Get The Whole Course Now
$99.00
4 Training Modules
24 Weekly Lessons
13 Guided Meditations
Applied Exercises
Expert Feedback
Private Community Forum
4 Beautiful Infographics
30-Day Challenge Worksheet
Bonus: Mini Course eBook
Bonus: 4 x Module eBooks
Bonus: Meditation For Life A 3-Part Introduction (audios)
Bonus: Meditation Picture Quote eBook
So how does this work?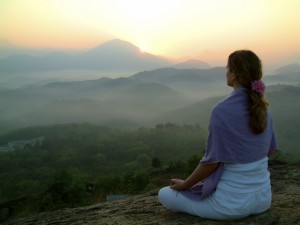 Each Core Training module introduces you to a new category of meditation through audios, guided meditations, written lessons, follow up exercises, and questions for contemplation.
You also get complete access to our community forums to explore the lessons with other course participants, build new friendships, get expert feedback, and support others. Here are your course modules at a glance:
Module 1: Introduction to Focused Awareness
How do you keep your mind from wandering in meditation? How do you cultivate deep focus and calm? How do you protect yourself from bad habits and fatal errors in your practice?
In this module, you'll learn three simple and powerful focused awareness meditation techniques. You'll also start to internalize two key concepts that are essential for long-term success. 
Overview & Intro
Lesson 1. Meditation for Beginners: A 3-Step Guide for Daily Meditation
Lesson 2. The Golden Rule of Meditation
Lesson 3. Should You Really Be Striving to Have No Thoughts in Meditation?
Lesson 4. The Simplest Focused Awareness Practice You Can Imagine
Lesson 5. The Soundscape Meditation
Module 2: Introduction to Free Awareness
Building on your focused awareness practice, this introduction to free awareness teaches you how to access the part of you that is limitless. Free awareness practice will introduce you to the breathtaking power of being still, relaxing, and paying attention to awareness itself. Although free awareness has a reputation of being hard, some practitioners find it more natural than focused awareness.
In this module, you'll practice two transformative free awareness techniques and you'll also learn how to look for signs of progress so you can know that you're on the right track.
Overview & Intro
Lesson 1. How Do You Meditate: An Introduction to Free Awareness
Lesson 2. How to be Still
Lesson 3. How to Succeed at Meditation Without Really Trying
Lesson 4. How to Meditate Properly: 5 Hidden Signs of Your Success
Lesson 5. The Key to Discovering Your Deepest Sense of Self
Module 3: Refining Your Practice
What kind of challenges can you expect as you get deeper into your practice? Do you struggle or do you find that it's hard to stay motivated sometimes? Meditation isn't always easy. It's simple, but it takes effort to build a solid practice.
In this module, you're going to learn about the promise and pitfalls of building a strong meditation practice. And you're going to develop tools and knowledge to help you navigate and grow from challenges on the path.
Overview & Intro

Lesson 1. 10 Simple Steps to Buddha Mind

Lesson 

2. How To Beta Test Your Meditation Practice In Six Simple Steps

Lesson 3

. Why We Struggle in Meditation & 10 Tips to Turn It Around

Lesson 4

. 10 Benefits of Meditating With Others
Lesson 5. Why Is Meditation So Hard? 

Lesson 6. 

10 Steps to Becoming a Better Meditator
Module 4: Introduction to Mindfulness
What is mindfulness? How does it relate to meditation? And how does all the meditation practice you've been doing relate to living a happier and more balanced life? In this module, you are going to learn how your meditation practice can fuel your mindful presence in the world.
You'll come away with a solid understanding of what mindfulness is, how to practice it, and why it's such a popular practice these days.
Overview & Intro

Lesson 1. 5 Reasons You Should Practice Mindfulness
Lesson 2. How To Conquer Anxiety & Negative Thoughts Through Meditation
Lesson 3. Can Meditation Make You Rich?
Lesson 4. 5 Ways That Meditation Makes You Happy
Lesson 5. Why You Should Try Mindful Exercise
Lesson 6. How Does Meditation Improve Your Relationships?
Lesson 7. How To Find Limitless Confidence In Meditation
Lesson 8. 10 Ways Meditation Can Make You More Creative
Bonus Module: 5 Part Mini Course (eBook)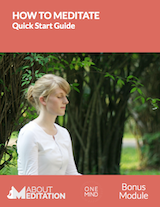 How do you quiet your mind? How do you start a meditation practice that sticks? And what is meditation anyways? This bonus module gives you the basic framework you need to start meditating right away.
Take the first step and start your journey with this Quick Start Guide. Learn the keys to stay centered and connected to your calm focused awareness.
Overview & Intro
Lesson 1. 10 Steps To Set Up Your Meditation Practice
Lesson 2. A Beginner's Guide: The 5 Things Every Meditator Must Know
Lesson 3. A Meditation Recipe: The 3 Ingredients You Need to Succeed
Lesson 4. Meditation Techniques: Focused Awareness & Free Awareness
Lesson 5. Daily Practice: Pulling It All Together
The course was wonderful, it was exactly what I needed at this time in my life. I feel more peace than I can ever remember. I am very thankful each lesson. ~Michael
First, THANK YOU so much for the meditation mini-course, I really enjoyed learning more about meditation and getting the reassurance that what I had been doing wasn't wrong. I have been mostly doing guided meditations in the past but had felt I was missing out on something and had found it difficult to concentrate at times. So your focused meditation instruction has really helped me. Thank you once again and best wishes. ~Sonya

Isn't it time you invested in yourself?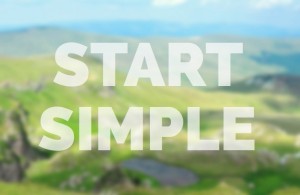 Here's the thing.
If you're willing to follow the weekly lessons in this course, you'll have a simple structure to enhance your life in powerful and potentially dramatic ways.
With a little bit of work and consistency, meditation can enrich your life in ways you can't imagine.

Through this Core Training Program, you'll taste of a part of your self that is always still, silent, grounded, and centered. And more than that, you'll learn how to cultivate that space in yourself so you can access it at will. Then, you'll learn that you have the choice to infuse your life with that rich and grounded part of yourself.
You'll learn how to side-step many of the issues that cause your stress, anxiety, fear, and lack of focus. I'm not exaggerating when I say that it can improve your relationships, enhance your creativity, hone your focus, and much more.
These days, meditation is no longer the province of monks, yogis, and hippies. Meditation is a go-to practice for executives, A-list actors, olympic athletes, and Oprah Winfrey. It's been on the cover of Time magazine twice in the last decade.
Why should you listen to me?
Here's my meditation story in a nutshell. 22 years ago I was in college and I was searching for meaning and purpose. Over time, I suffered and grew more anxious because I knew there must be more to life than this. I was struggling inside and I was searching for deeper meaning...
And then I found it when I discovered meditation...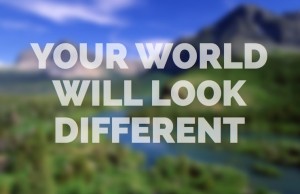 And when I did, everything changed.
I stopped struggling against the current of life. I discovered that there is a reservoir of peace inside of me. And I could nurture that inner quiet through regular practice.
Now I experience a kind of fulfillment in life that I couldn't imagine before. Of course I still suffer like everyone else, but I also see that I have access to something else that's rare in this world. And it comes from meditation. It's a source of confidence and I know that it's in you too.
I want you to have that experience too...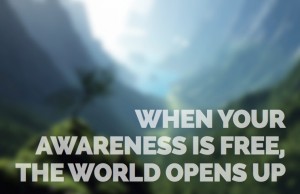 Do you want to be the source of your own inspiration? If you are willing to put in the same amount of time it takes you to drink a cup of coffee then you can do this.
Through meditation, you'll start to nurture a source of inspiration in yourself that no one can take away from you. It's yours. In fact, it is you.
Are you ready to start your journey today?  
One last thing before I sign off. We've taken the risk out of this for you by providing a guarantee. If you aren't satisfied or if you feel this isn't the right course for you, we will give you a FULL refund.
I hope to see you in the community forums!
Be well,
Morgan Dix
Cofounder, About Meditation